In a new weekly series, Goal.com will be compiling the statistical data, expert analysis, and progressive season records on the two best players in the world, Lionel Messi and Cristiano Ronaldo.

For this week's head to head battle, we analyse a set of criteria to find out who the more complete player is.
How They Played This Week
Who came out on top in the recent round of La Liga action?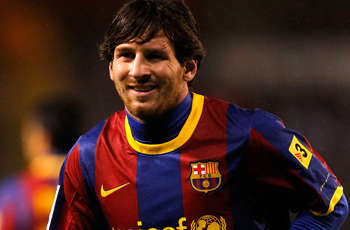 Lionel Messi (Deportivo 0-4 Barcelona)
Messi scored his first goal of 2011, but it was his double assist against Deportivo La Coruna that caught the imagination.
His first came in the 25th minute when he slipped in a well disguised through ball to David Villa to score the opener. He then got on the scoresheet himself when he curled in a free kick from 25 yards out into the top corner. It was his first free kick goal of the season.
The Argentine completed his evening by setting up Pedro with a delicate pass into the box in between two defenders. He has now provided four assists in his last two games.
Goal.com Player Ratings Comment:
Voted by
Goal.com
editors and readers as the Top of the Match. Scored a marvellous free-kick, provided the assist for Villa's strike and made Pedro's goal. Fantastic, nothing more to say.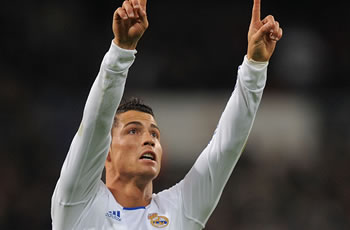 Cristiano Ronaldo (Real Madrid 4-2 Villarreal)
Ronaldo claimed his fourth hat-trick of the season in all competitions as he brought his Real Madrid tally to 63 goals in 62 games.
He twice score Los Blancos' equaliser against Villarreal, first slotting home from close range after good work by Mesut Oezil and Karim Benzema, before heading in a Xabi Alonso freekick.
He bagged his treble in the second half with a shot on the turn to give Madrid the lead against El Submarino, before he supplied an assist for Kaka to wrap up a 4-2 win.
Goal.com Player Ratings Comment:
Voted by
Goal.com
editors and readers as the Top of the Match. Scored three and provided an assist. Missed a great chance in the 64th minute, but redeemed himself later on. When Los Blancos were in need, he provided. Man of the match hands down.
Lionel Messi
(vs Deportivol)
Cristiano Ronaldo
(vs Villarreal)
Goals
1
3
Shots (On Target)
2 (2)
5 (3)
Assists
2
1
Passes (Completed)
81 (62)
42 (27)
Balls Lost
11
7
Balls Recovered
1
1
Fouls Suffered
2
0
Goal.com Rating
8.0
9.0
Who Is The More Complete Player?
A year ago when Lionel Messi was crowned with the 2009 Ballon d'Or and FIFA Player of the Year accolades, Madrid-based daily Marca ran a piece to argue that even though Messi was the best player in the world, Cristiano Ronaldo remained the more complete player.
Goal.com
did an assessment of our own based on the ten criteria set out by
Marca
, of which the results can be seen
here
. Now, a year later, with the 2010 FIFA Ballon d'Or winner to be announced Monday evening, we revisit the debate to find out who is the more complete player.




MESSI


RONALDO


Collective Game
2009 Rating: 8
2010 Rating: 10

Messi's collective game has improved, as evidenced by the number of assists and the type of through passes he constantly provides to his team-mates.

2009 Rating: 7
2010 Rating: 9

Ronaldo is not as individualistic under Jose Mourinho. Encouraged to pass the ball more, he has been creating chances for his team-mates.


Individual Technique
2009 Rating: 9
2010 Rating: 9.5

His touch, link-up play, and close control, incredibly seem to have developed to a higher level in the past 12 months. Nearing perfection.


2009 Rating: 9
2010 Rating: 9.5

Anything that Messi can do, Ronaldo can match. He too has improved his dribbling, playing intelligently with his head up, looking for a better option if available.


Physicality
2009 Rating: 7
2010 Rating: 8.5

Messi is stronger in possession than his slight build would suggest, and he has improved on his strength over the past year. He has shown determination and desire to keep the ball against even the strongest players.

2009 Rating: 10
2010 Rating: 10 =

Ronaldo, if anything, has an even more impressive physique this season. He is fitter, stronger, and more difficult to stop than ever before.



Pace
2009 Rating: 8
2010 Rating: 8 =

Messi's speed comes in small bursts, covering short distances with the ball at his feet, and across that particular range he is as sharp as anyone.


2009 Rating: 9
2010 Rating: 9 =

CR7's incredible pace while running with the ball for long distances continues to be his most established asset, one that has lost none of his impetus in the past 12 months.


Dribbling
2009 Rating: 10
2010 Rating: 10 =

The Argentine remains the greatest dribbler in the modern game, bar none. Running at speed, he has the ability to drift past defenders with unerring ease.

2009 Rating: 8
2010 Rating: 8.5

Ronaldo's has refined his dribbling to include an end product which give his dribbles greater focus, and he has cut down on unnecessary step-overs in favour of direct running.


Shooting
2009 Rating: 8
2010 Rating: 8.5

46 goals in a single season suggests that the Barca star is more clinical when in a position to shoot, opting for placement rather than power, but with equally devastating effect.

2009 Rating: 9
2010 Rating: 8.5

Ronaldo's goals this season have been, in the main, from closer to the target. Particularly at the start of the 2010-11 campaign, his shooting was erratic and generally off-target.


Passing
2009 Rating: 9
2010 Rating: 9.5

Messi drops deeper, off the front now, and it has allowed to his create more passes for the likes of Villa and Pedro. He has 12 assists so far in just half a season.

2009 Rating: 9
2010 Rating: 9 =

Ronaldo is more appreciative of his colleagues now, but his efforts have only slightly improved his assists total, his six dwarfed by Messi's impressive total.



Heading
2009 Rating: 7
2010 Rating: 6.5

Messi's header in the Champions League final confounded those who criticised that aspect of his game, but it remains by far his weakest attribute. Lucky for him, Barca keep the ball on the ground.

2009 Rating: 9
2010 Rating: 9 =

Ronaldo has a fantastic leap making him one of La Liga's most dangerous targets from corner kicks, and his aerial ability continues to be an overlooked but valuable asset.



Leadership
2009 Rating: 7
2010 Rating: 7 =

The desire to lead by example is not something that Messi concerns himself with. There are motivators and leaders in other areas of the pitch. He collects the ball and does what he does best - nothing more.

2009 Rating: 9
2010 Rating: 9.5

A fitting weekend to focus on the ability of the Portuguese to lead by example. His rallying cry in the victory over Villarreal was inspirational and proved pivotal in the win - a virtue he has regularly shown this season.


Freekicks
/Penalties
2009 Rating: 7
2010 Rating: 8

Messi hasn't had the opportunity to score many free kicks and penalties, but he delivers when he has to, evident by his sublime effort against Deportivo and against Almeria in early 2010.


2009 Rating: 9
2010 Rating: 8.5

Yes, CR7 scored a stunner against Athletic and Zaragoza, and has maintained his unique style, but he is far too wasteful, with the majority of efforts flying into the wall or over the crossbar. Needs to tune-up his accuracy again. His penalty conversion rate remains flawless.


VERDICT:
Even though Messi improved in six of the ten categories and remained unchanged in three others, Ronaldo still emerged victorious, winning five of the ten criteria outlined. Messi won only three while the other two ended in a tie.
When the scores were tallied, Messi accrued 85.5 out of 100, while Ronaldo totalled 90.5 out of 100.
Story of a Season

Who's had the best campaign so far in La Liga?

Season Stats


Minutes Played
1407
1705
Goals


Penalties
Free kicks
First goals

18

22

*



Total Shots (On target)
70 (38)
125 (49)
Assists
12
6

*

Passes
1014(team total: 12,699)
800
(team total: 9779)
Passes Completed
849
(team total: 11,840)
567
(team total: 7858)
Fouls Suffered
26
46
Fouls Committed
12
15
*Marca, who awards the Trofeo Pichichi, has credited Ronaldo with 23 goals (and 5 assists)